Here are a few more awards deadline dates for your diary. 
First up, a reminder that the D&AD Awards, otherwise known as the Yellow Pencils, close for entries on February 5th. The awards themselves, set up to honour creative work in design and advertising, have been running since 1962, and attracted entries from 64 nations last year. This is one of the calendar's biggest events in terms of the sheer range of awards on offer: a total of 25 juries are to decide on this year's winners, with categories covering everything from leaflets to radio commercials to microsites to installations (full award list here).
Elsewhere in Europe, the extended deadline for the Festival of Media Awards falls on Friday (February 5th). These awards are designed to honour and recognise effective media strategies, and include discrete categories for digital and mobile campaigns. They'll be handed out in Valencia, Spain, on April 20th. 
The following week brings the deadline for the 4th Dubai Lynx Awards, recognizing campaigns from the fast-growing Middle East and North Africa region, which falls on February 11th. The ceremony, held in the Dubai Media City complex, follows the three-day Dubai International Advertising Festival and is held on March 17th.
In the US, the entry deadline for the first annual Hive Awards, accepting submissions from new media entrepreneurs, web designers and developers, has now been extended to February 15th. The ceremony itself will be held as part of the SXSW Interactive Festival, in Austin, Texas, on March 12th. The Hives themselves, set up to honour the internet's "unsung heroes", are the brainchild of creative strategist Alan Wolk, who blogs at The Toad Stool.
The Russian Effies, open since last November, also close on February 15th.
FIAP 10, Latin America's premier advertising festival, also opened its awards for entries on February 1st. The deadline for submissions falls on March 31st, with the awards themselves to be handed out at the climax of the FIAP festival, which takes place in Buenos Aires, Argentina, from April 27th-30th.
One of 2010's first awards ceremonies took place last Wednesday (January 27th), when the ANNAs were handed out in London. Celebrating the best of 2009's UK newspaper ads, the Winner of Winners award was scooped by the 'Back to Work' campaign by Honda, by Ida Gronblom, Fabian Bergland and Karen Jane of Wieden + Kennedy.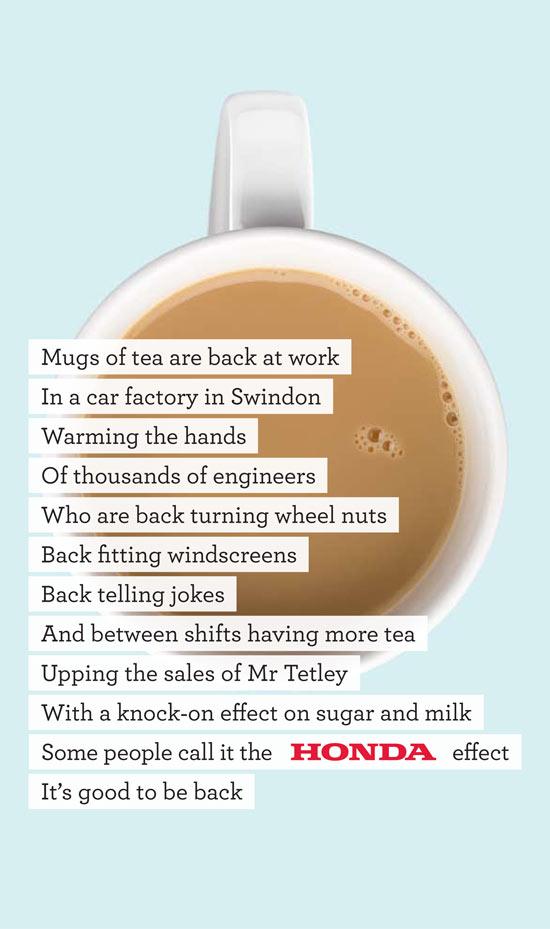 Other gongs were handed out for art direction, copywriting and for ads featuring on newspaper websites.